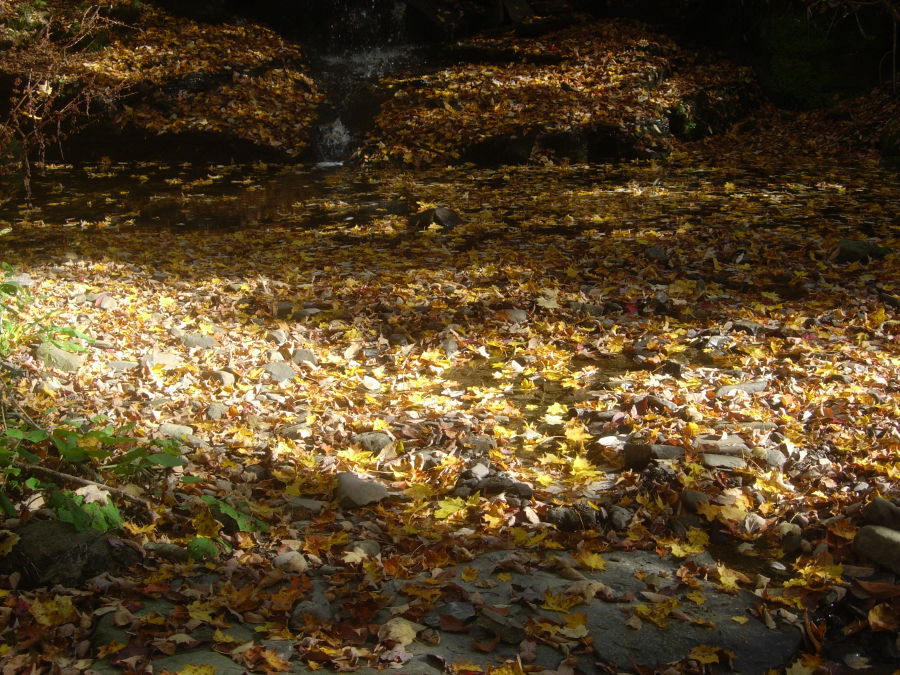 This past autumn one of my brothers survived a car accident. In the space of a breath his vehicle swerved, in less than a second careening over the guard rail. A roll down the bank followed, the blur of a tumble leaving him dangling upside down, the upended car perched on the edge of a pool of water.
The vehicle was a crumpled mess, and yet he escaped without a scratch, without so much as a bruise or a strained muscle. Thank God for such mercy. To see the crumpled wreck of car is to wonder how someone could walk away unscathed. Thank God for His loving protection. Considering what had happened, and what had not happened, I can only feel deeply grateful.
And yet, I couldn't simply go on with life. I thought about my reaction, and it bothered me. God seemed so good after that miraculous preservation through the accident, but was I measuring His goodness by what pleased me? Home team wins the ball game, God is there. Home team doesn't win, then what?
God is good, that is sure. But how easy to affirm such when God does exactly as we want. A different thing entirely to find comfort in a loving, protecting, keeping God when all the goodness you could imagine is snatched away. Or even a small measure of what is treasured. What would be my feeling if instead I stood at that fateful place on the road and looked down to where my brother died? In my mind's eye I saw myself, and I was not resting in God's goodness. I saw myself in that imagined place, and there was no warmth toward God in my heart. I was angry beyond expression that God robbed me of a brother I wanted for many years to come. My heart clenched against God in a way that frightened me.
I could not put that from my thoughts. To find my thankfulness and rest in God so dependent on circumstance left me uncomfortable. What value is trust if you only trust someone when trust doesn't really need to be exercised? Sure, it is easy to trust God when your brother is saved from death. What about trusting God when he dies? Many people I love will die--if not sooner than surely later. And what praise and thanks and trust will I give God then?
By the measure of myself, I won't give much praise at all.
By my own confession, the trust I give God is a mockery of trust.
This analysis troubled me in a double measure because, it seems, I also become guilty of hypocrisy. People around the world are suffering tragedy, and tragedy has struck even closer; not so many years ago my aunt was killed in a car accident observably no more severe than what my brother survived. To the world I have declared that God is always worthy of praise, is always trustworthy, and is always loving and good. I call the world to believe in such a God, to rest and trust in such a God. But if I can already see that I will not live up to such when the hammer falls in my own life, what right do I have to proclaim those truths about God unless I relish heaping the judgment due hypocrisy on myself?
On first thought that measure of oneself does seem like good cause to shut up about God. If in hard times I am not a paragon of the virtues I would extol, what right do I have to speak of them? Though such a thought seem true, it is in fact false. A very clever lie, but a lie nonetheless. A lie because the reality of God's qualities, and our proclamation of those attributes of God as true is not dependent on our mastering those virtues. The truth of the love of God is not dependent on us having attained to such a loving nature. The truth of God's goodness is not dependent on us fully apprehending that goodness. The truth of God's justice is not dependent on us always understanding that justice. If all the wondrous aspects of God were things we could fully apprehend or attain or encompass with our feeble selves then they would not, in fact, be very awesome at all. The fact that we fall so horribly short of the godly qualities of God is a reminder that God is awesome enough to be God, and worthy of all that we so faltering and failing are called to give Him.
It is not hypocrisy to declare that God deserves many things we fail to give Him, that His greatness surpasses our feebleness, and to proclaim that He has many qualities that we fail to rightly acknowledge. However, it is hypocrisy to lay claim to having given and done unto God that which we have not, nor will. Let us declare that God is completely trustworthy--but also that we have not trusted Him as we should. Let us say that He is always good, but that in our failures we do not believe His goodness as we ought. Let us assert that God is loving in all His ways, but that we often do not understand it, and in times of trial even doubt it.
We are not equal to the task of demonstrating the fullness of God's perfection--we fall far short. And God knows that, and has not put such a burden on our shoulders. It does not rest upon us to be perfect in love, faith, hope, or goodness so that the world might know those qualities of God. Jesus carries that requirement, and with great thankfulness we can know that God perfectly shows to the world all of His perfections so that none can say they were utterly ignorant of God. It is for us only to acknowledge and proclaim that God is who He says He is, and to humbly admit that we fall so short of the limitless perfections of God and that we are in need of as great mercy as the worst failure we may meet.
If we are all equally in need we may all equally call on the mercies of God.
And in the last measure our great hope is this: our coming through the storm doesn't depend on how much we can muster the good qualities needed--faith, trust, or any such. Our measure of ourselves is not the ultimate standard by which we will stand or fall on the dark day, because we have a sure promise: "if we are faithless, he remains faithful" (2 Tim. 2:13) and again we are promised that Jesus "will sustain you to the end, guiltless in the day of our Lord Jesus Christ. God is faithful, by whom you were called into the fellowship of his Son, Jesus Christ our Lord" (1 Cor. 1:8-9).
I have looked at myself and found that I am lacking in my relationship toward God and because of that I see I cannot stand. But this is to remind me that God is not lacking in His relationship toward me, and because of Him I will stand on the dark day.