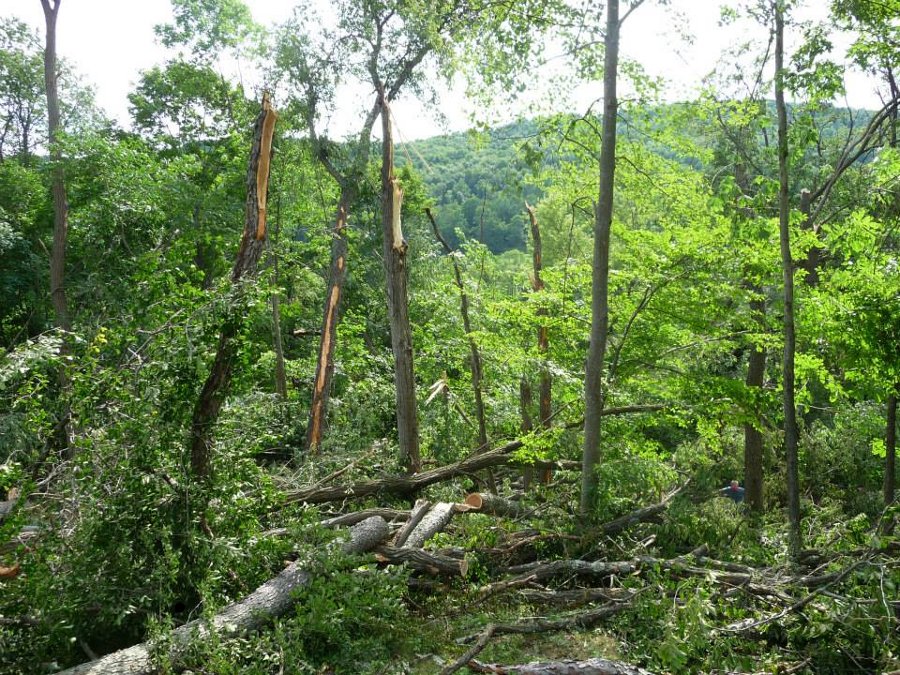 We had the memorial service for Grandma on Saturday July 5th. A few days later on July 9th I was still trying to get settled into living back home with my family. One doesn't settle in a matter of a few days, but I remember on that Wednesday thinking that it might be the first day I had uninterrupted to work on unpacking and organizing myself. It seemed that just as those thoughts flitted through my mind the phone rang. It was my uncle Kevin on the line.
My sister Cadie picked up, but it was a bad connection and she could barely hear Kevin. He was calling on faint cell phone service because his house line was down. After several, "What? Ok...wait, what? I missed that," Cadie handed the phone to me saying, "I can't make much out, but Kevin needs help."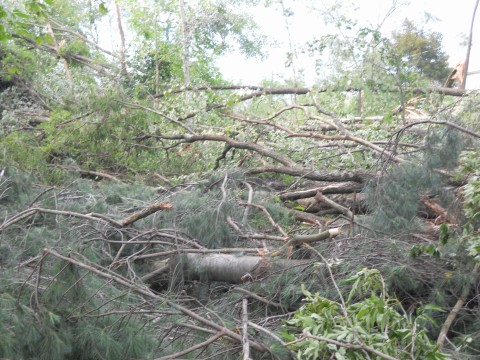 Now my Uncle Kevin is an independent man. He does not like to ask for help, and does not ask for help unless he absolutely must (and may avoid asking for help even when he really should). Since he does not like bothering people, he is usually very good about asking for help in advance if he absolutely requires help so that people can plan in advance. A random call in the middle of a day on a barely working cell connection asking for help was so unusual that my gut immediately suspected something was very wrong.
"Storm hit here yesterday...lot of trees down...need help clearing them. You can't get to the house. You'll have to park wherever you safely can and hike up." That was the most I could piece together from the faint and broken connection on the phone. I wanted more details, more information, but the most I could do was repeat loudly into the phone, "We'll be down! We're coming down! We'll be there!" until Kevin caught it through the faint connection.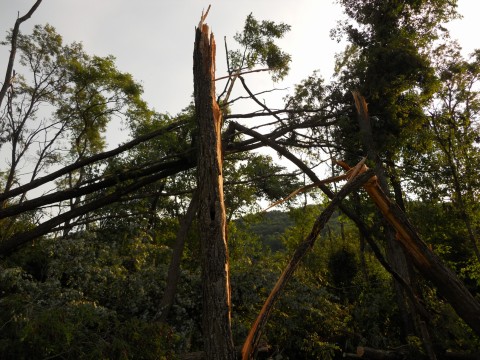 So it was new plans for the day. Dad and I snagged a few more boys, put both of the chainsaws along with accessories and supplies in the back of the truck, plus cooler chests, ice, drink, and some snack food. Then away we went heading on down to Pennsylvania, decidedly uncertain what we would soon face.
Kevin lives at the end of a short dead-end road quaintly named "Appleman Ridge." He owns a small homestead in a densely wooded and hilly area. His static filled statement on the phone about "trees down" left a lot of room for interpretation. Were a few trees blown down on Appleman Ridge road, knocking out power and phone service and blocking traffic? Or were a mass of trees down everywhere in a general disaster? Kevin is a country man with his own chainsaw and tractor and a few trees down was not the sort of thing to make him feel a need for help. Given Kevin's competence, a cry for help indicated a large scale disaster--but we were puzzled because there was no news about any kind of large scale disaster in the area. (That said, we had a hint at the possibilities by a post on Facebook by a cousin living in a slightly different part of Pennsylvania whose garage had been completely demolished by the wind.)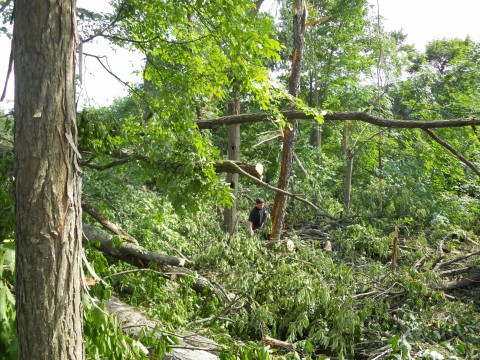 Almost as if to spite our assumption, the countryside for the entire trip was untouched. Beautiful hillsides stood green and unruffled under the summer sun. There was no sign of any storm damage until we reached Appleman Ridge. There the destruction began like a line drawn in the sand.
Kevin lives in a very hilly part of Pennsylvania. A narrow ravine borders one side of his property, and his own homestead is on a steep hillside. It is the sort of rough landscape which leads to comments like, "A tornado would never make it through here." I may have said those very words once when walking around Kevin's land. Well, never say never. The destruction we saw was the result of an EF1 tornado. There were no injuries or deaths, but the tornado traveled 1.4 miles at 90 mph with a width of 150 yards. Kevin's house was at the center of this swath, his property almost the sole recipient of the damage.
The level of destruction defies description. It can't be adequately captured in pictures. The area looked like a war zone. The place looked like it had been hit by an artillery barrage. Nearly every tree on Kevin's land was felled--some uprooted and cast over, others snapped in half, some stripped of their branches. The road to his house was render utterly impassable, buried in massive trees. In the end power was out for 50 hours, and phone/internet service was out for 8 days.
It was a shocking sight to see.
The first thing we had to do was hike (more like scramble) up the hillside to find the house and figure out what was going on. Kevin was overwhelmed and a bit in shock from events, and was not able to give us much direction for where we should start. But he did tell us to leave clearing the road for the utility company and instead start working on clearing his fence line.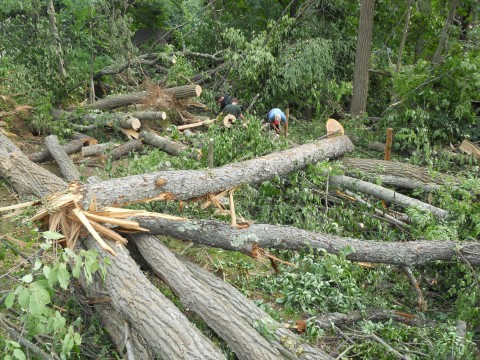 So we began the most dangerous chainsaw work I have ever participated in. There were pinned trees, tree under pressure, trees that wanted to stand back up on their root ball, trees leaning on other trees, and trees snapped in half with their tops still dangling. On top of all that, we had to use our saws in an obstacle course of debris and broken tree limbs, and sometimes on a very steep slope. In spite of all that by the end of the second day we had the fence line cleared and a good portion of the fence repaired. Still there was many more days of work left (and in fact I and a bunch of brothers went down this past Saturday for probably the last time for cleanup.)
After word got out about Kevin's situation, a lot more help came, including people with skidsteers and other power equipment. The equipment enable the work to progress much more quickly.
Beyond the danger of using chainsaws in very difficult situations, and the danger of being injured or killed by trees, there were additional hazards. Most of this summer has been very cool but a few days in early July were very muggy and hot--and our first day at Kevin's was one of those days. Under the best of circumstances it was a day for sweating, and working out in the disaster zone the sweat was pouring off everyone. We had to be careful to keep hydrated and avoid heat stroke. Then there was the danger of constantly climbing over and under fallen trees. Slipping and falling was an ever-present risk that could end with a twisted ankle, a broken leg, or worse.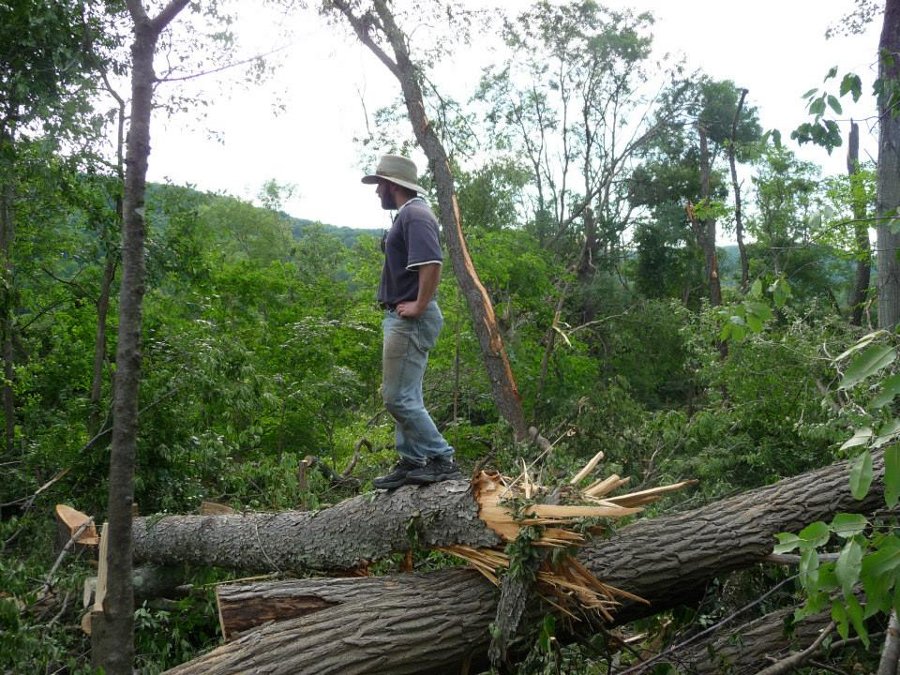 One of the greatest hazards was people pitching in to help which were not accustomed to the work. My Dad was active in his youth, and is still more active than most men his age, but now that he has moved comfortably past sixty his level of physical activity is significantly different than a man twenty or more years his junior. Dad admirably rose to the occasion of the crisis, but much as I was impressed I was also somewhat concerned. When we first arrived on the scene several of us went on ahead to scout a path through the destruction to the house. Dad followed up a short time later carrying both of the chainsaws. Both saws have 18" bars and are heavy enough. Trying to scrambled up a steep bank through brush and downed trees while carrying two saws is of an entirely different magnitude. By the time Dad reached the house he was soaked in sweat and gasping. At that point I was a bit concerned we would end up with someone down with heat stroke our a heart attack before we even got started. Later he was chainsawing along with me, and jumping from one log suspend in the air to another--not something you think about when you are young and limber but when I watched him I couldn't forget that he was a man past sixty with a bad back and several other troublesome joints. In spite of his age he managed to pull off the hard work without any permanent injuries (though he was really hurting afterward). And it was a good last hurrah. I doubt we will see him doing anything of the sort again in this life.
I think the person who most concerned me was my Uncle Nate who came up to help work. He is the youngest of the uncles but also has worked his life at a desk job. When he arrived he said, "When you get tired of using the saw I'll give you a break." Little did he understand that getting tired wasn't what we did. I would keep sawing all day--going, going, and still going except for pauses for drink and food. We started Nate on light work dragging away branches as they were cut, and it quickly became apparent he wasn't in condition to be moved up to heavier labor. Just doing the light work left him sweating heavily and exhausted. Watching him reminded me that not everyone has the same level of health, and made me think about all the stories of office workers who went out to do some hard labor and ended up falling over dead from a heart attack.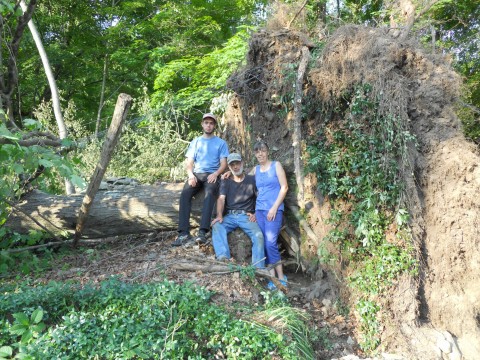 Thankfully nobody was injured or had a heart attack. But the most miraculous thing was what the tornado did not hit. Kevin's property was utterly devastated. But in the midst of it all his house, his barn, and his green house were completely untouched. The contrast was incredibly stark. Trees were flattened everywhere around the house, a huge tree directly across the driveway was torn up and tipped over, and yet nothing was touched on the house or barn. In the face of such devastation, the preservation of house and life was evident as the hand of God. By all normal rights the house and barn should have been leveled. Instead, the glass table on the back deck wasn't moved, wasn't even scratched. All of which was a sober reminder that the hand of God directs and constrains so that no storm does anything he has not decreed. Those who trust in that truth can sleep at night, even when the storms of life are raging.