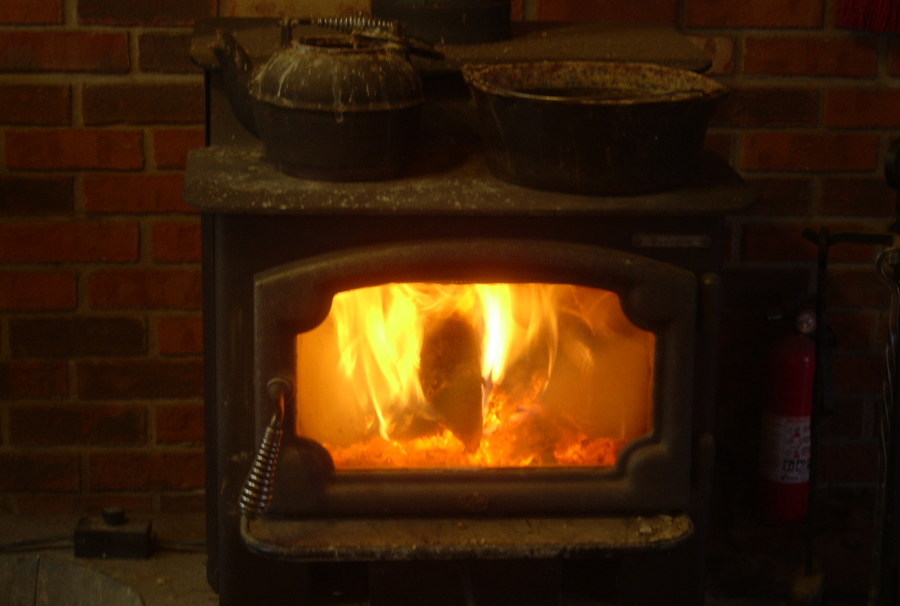 Flammable Paradox
I see men walking
like trees
upon whom the Cursed hung.
Judgment redeemed
set afire
for purified ingots.
One morning this week found me sitting in the dining room, empty breakfast bowl in front of me as I stared at the wood stove fire. I guess my line of thought started with pondering why many people (myself included) find a strange beauty in fire. There is a fearsome and awesome thing to fire, and beauty too. It is a sublime combination, and as I thought I wondered why this was so.
Why did God make it so that we naturally are drawn to fire's mysterious beauty? Fire is destruction and on first reflection why should we find beauty in destruction, whether it be the immolation of wood in a fireplace or a star expending itself. And yet we do find powerful beauty in fire, in light. All light comes from some sort of fire, the rending of something torn asunder whether it be the inferno of wood molecules or the dissolution of countless stars. Without those countless dyings creation would be a cold dark death. It is only in the dying of something that light and life exists.
The most common Biblical use of the imagery of fire specifically is for judgment. As we see things in the natural world readily destroyed by the awesome power of fire this is an analogy that we readily understand. But there is a tension too, for if in fire there is only the truth of God's wrath why are we so drawn to it, and why has God used fire with its light and warmth to demonstrate it as the source of life?
How can judgment bring forth life?
As I sat in my chair, milk damp bowl forgotten as I watched the flames, I kept thinking about how the Bible uses fire. Given fire's common use as a symbol for God's judgment, it is quite remarkable that on the day of Pentecost when the Holy Spirit descended on the followers of Jesus it came as tongues of flame settling on them. When the Holy Spirit descended on Jesus at his baptism it came in the appearance of a dove. Fire is quite a different matter, and most certainly there is a reason for this differing imagery.
We gain some understanding of the choice of fire for the Spirit's coming on the disciples if we look closer at the use of fire in the Bible. There are places in the Bible where fire carries a purely punitive conception--such as the fires of hell. But often in the prophetic literature fire is used in terms of a redemptive, restorative, judgment. One example is found in Zechariah 13:7-9 where we read:
"Awake, sword, against my shepherd,
against the man who is close to me!"
declares the Lord Almighty.
"Strike the shepherd,
and the sheep will be scattered,
and I will turn my hand against the little ones.
In the whole land," declares the Lord,
"two-thirds will be struck down and perish;
yet one-third will be left in it.
This third I will put into the fire;
I will refine them like silver
and test them like gold.
They will call on my name
and I will answer them;
I will say, 'They are my people,'
and they will say, 'The Lord is our God.'"
In this passage fire is the very thing which makes the people pure and perfect (removing the bad and leaving only the good) and restores their relationship with God. It is this idea which informs our understanding of the fire descending on the disciples at Pentecost. It was the sign of their purification. And the imagery struck me; if to a man with not yet full seeing eyes we can appear as trees walking, than how much more do we appear to earth-dimmed eyes like logs set on fire by God. We burn oh so brightly, gloriously, and in our passing only ash remains.
The line of thinking quickly brought me back to the paradox of the cross. For it is in that great act that we see death, destruction, and judgment bring forth life, restoration, and deliverance. Metaphorically, on that cross Jesus was alight with the fire judgment of God as he became cursed for us. It was an ugly demonstration of the consequences of sin, and it was a beautiful demonstration of the reality of love. It was the consummation of death, and the seed of life. The death of Jesus Christ was both, and it is a paradox that no natural mind can explain. It is a beautiful paradox, and in looking at that little fire on the stove I saw how it existed as an example paradox of that paradox--a sun blazing light in its fiery death, giving life to this world, right down to the logs in my fire warming the house. We are transfixed by the beauty of fire because in it we are given a dim recognition of the beautiful mystery found in redemption--that in God the judgment of death brings revelation, redemption, and restoration. It seems impossible, and yet it is. How fitting then that God would give us fire, a sign of judgment which shines forth the mysterious beauty
It is not that in spite of death God saves, for the death of Jesus was not merely an obstacle that had to be overcome. Rather, it is through death that God saves, for the death and resurrection of Jesus was the very means by which God saved. This paradox is not happenstance. Yes, the cross of Jesus shows the mystery of God. But more than that it shows the power of God in that by His hand the negative becomes positive, defeat the greatest victory, and we can delight in the hope this teaches us about God's ability to thwart every intention of evil.
When Satan enticed Man and Woman into sin in the Garden of Eden, judgment was their just due (and how Satan took pleasure in that). But for all Satan thought he had thwarted God, it was that very judgment of separation, the very fire of wrath, that God used to reconcile the lost back to Himself. The greatest blow Satan could think to strike against God--whether it be the Garden of Eden or the Cross of Jesus--was used by God to bring the greatest glory to His name. Not only are we saved from judgment, but that very salvation was purchased by means of judgment.
We look at a fire and if we have eyes to see it tells us of the mystery of what God has done--and what only God can do. For the fire in the hearth will soon go cold, and only dead ashes remain. And if this creation continued long enough the stars too would burn out. The fires of this universe are a picture, and they are beautiful, but their ashes remind us still that for all the beauty of ephemeral flames we are looking for the blazing glory that will never end.